I have been asked several times for a tutorial on how to do needle felted balls. I'm pretty new to it myself, but I'm going to take it on! I'm starting with balls I had already felted. I'll post the tutorial next time I make them so I can take pictures along the way.





Materials:

100% Wool Ball

Wool Roving in colors of your choice - I dyed mine with Kool-Aid

Felting Needle (available at your local craft store)




This really is easier than it looks! You want to start with your ball and your roving.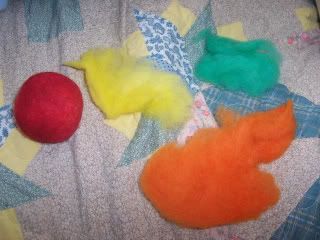 Take a small piece of the roving and hold it where you want your design to start.
Holding the roving in place with one hand, use the felting needle to poke straight into the roving and the ball. Move the needle along slowly, poking right next to your last hole, along the shape you want the roving to take. Keep poking and the roving will felt into the ball and become a solid piece of the felt. You can see it starting to happen here.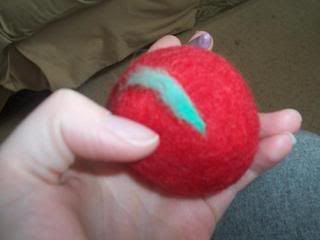 This is what it looks like when a bit more is solidly in.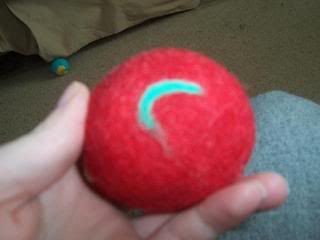 Just keep poking along and your design will start to come out strongly. You can see it starting to shape up here.
You can add different colors and parts of the design in the same way. Here is a bit of yellow going in.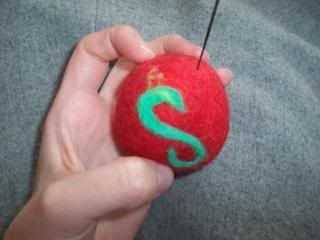 Just keep adding in your design and colors as you go! Keep poking right next to your last hole and it will all come together. If you are having a particularly hard time getting it flat enough, you can put the ball in the toe of an old pair of nylons and stick it in the dryer for a few minutes. The pounding action will knock the felt flat, but be careful because it can knock pieces off if they are too loose!
These are some pictures of the finished product: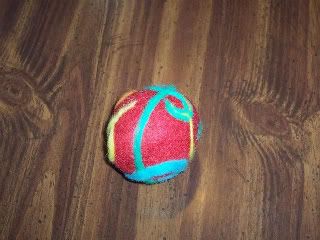 Labels: Mindful Crafts