Welcome to the June 2012 Simplicity Parenting Carnival: Green Living
This post was written as part of the monthly Simplicity Parenting Carnival hosted by The Lone Home Ranger and S.A.H.M. i AM. This month we are discussing how we find ways to be more natural parents and stewards of the environment. Be sure to read to the end to see a list of the rest of the excellent carnival contributors.
***
Many years ago, before my husband and I had kids, we agreed that we didn't want the standard house full of plastic that seems to be delivered with the baby. It was simply an aesthetic that did not appeal to us. Both of us, even before succumbing to our environmentalist roots, were more naturally minded, and didn't feel that the house full of plastic was necessary for healthy, happy babies.

And then, we actually had a baby! And you know how it goes when you have a baby and things start changing... We never did buy any large plastic equipment for Sofi. I found a wooden high chair that needed a little work (which I promptly volunteered Papa for), at a sale for $10. The price was right and the chair was truly beautiful. So, Papa sanded, varnished and glued and that wooden high chair has served 3 kids so far. We were gifted a giant plastic swing when Sofi was a tiny baby and we still lived with Papa's parents, but when we moved out, we left it with them and invested in a small travel swing that folds flat. The legs are metal and the seat is cloth. It fit better with our vision, and it fit better in our teensy apartment. But, the toys were, of course, almost all plastic. The shape sorters, pop beads, balls, blocks, stackers, gyms and teethers - all plastic. And, we kind of hated it. We drew the line at logos and characters, batteries, lights and noises, and we generally preferred classic toys. But, every new stage and toy brought a growing sense of discontent.

And as we grew as parents, we grew more in touch with our natural, environmentalist roots. We stopped using Johnson & Johnson's Baby shampoos after the news of their containing carcinogens broke, and we began using natural body care products instead. We stopped using disposable diapers after 6 months and switched to cloth. We didn't use chemical cleaners at our little apartment, and used soap, water, baking soda, and maybe some vinegar or tea tree oil if it was a tough job. We got rid of any disposable products, with the exception of writing paper and toilet paper, and the rare piece of foil or zip top bag. We replaced those products with things that could be washed and reused. We recycled obsessively. And we watched our baby chew on those plastic toys.

We learned about BPA and phthalates and how bad they are for people. We learned about the plastic island in the ocean. We learned about plastic sitting in dumps, not breaking down completely for hundreds of years. We learned about off-gassing. We learned more about the world's obsession with petroleum products and how much this raises our carbon footprint. We learned about all of these things, and there sat our precious little baby, with a plastic ring in her mouth, happily gnawing away. We looked at the amount of plastic in our home. And we looked at each other and our level of discomfort with the situation.



And we decided to make a change.



We decided that we would get as far away from plastic in our home as possible. We decided that we would stop buying plastic toys. We decided that we would slowly replace the plastic in our home. At first, the goal was simply to get rid of as much plastic as possible. Soon, we narrowed our definition and aimed for a 90% plastic free home. And at that time, in that place, it seemed next to impossible.


No longer in our tiny apartment and still able to reach our goal of 90% plastic free home!


We had a lot of roadblocks in our newly idealized journey; things that may have caused the faint of heart to turn tail and bury their heads in the sand. But Papa and I are nothing if not adventurous. So we plunged bravely ahead!


Wooden swing, wooden play house, wooden wheel barrow, and metal truck.


One major road block was that we didn't want to cause a further strain on the environment by dumping our plastic things in a landfill and buying new plastic things. So, we made the decision that we would only replace items as needed with non-plastics, except for a few key items. So, when something broke, or had reached the end of its useful life, we would replace it with an item that was non-plastic. We got reusable grocery bags, and stopped bringing plastic home. We examined everything we bought and truly thought about it, for the first time.


Wooden ladder and wooden "climbing structure" next to our clothesline full of cotton.


The key exceptions being that we began replacing dishes and toys as soon as we could. We did not want things that touched our food, or went into our baby's mouth to be made of plastic. She was still young enough at that point that replacing the toys happened easily, albeit slowly. Babies naturally go through stages with toys very quickly. The six month old can't use the shape sorter yet, but the one year old can. So, when new toys were bought, we bought non-plastic.


Wooden play kitchen and wooden bookshelves made by Papa - filled with wooden, cloth, metal and cardboard toys and baskets.

Another road block was that we were completely, flat broke. We lived every month down to the penny. There was nothing extra to go around buying expensive wooden toys with. So, we made the choice to buy less toys that were better quality. This meant that I couldn't go to a garage sale, spend $3 and come home with a room full of toys anymore. But it meant that if I was careful, I could find the Melissa and Doug stacking train at a garage sale for 75 cents. It meant that we began making more of our own toys to be able to afford them. And it meant getting creative about what qualified as toys.


Wooden table and chairs made by Grandpa, and other assorted wooden, cloth and cardboard toys.

Our project took a lot of time... A lot of time. It took a lifestyle change - much like a diet, if you will. It took a lot of initial conscious thought. And then, one day, we looked around and realized... We had reached our goal! Without thinking about it anymore, without agonizing over every decision, without spending a fortune, we had created a home that is 90% plastic free (or maybe more - exact measurements are hard)!


Our dining room, complete with two wooden high chairs. The plastic in the front corner is our birth kit and pool, as this picture was taken when we were getting VERY close to having our second baby at home.

We think our home is an aesthetic joy. It is warm and inviting. It doesn't have a lingering plastic smell. We don't worry, even subconsciously, about what our kids are putting in their mouths when they play. We have learned to be even more careful with our money and the amount of things we accumulate. We are better stewards to our environment. And we are happier because of it.


Our living room, full of wood framed furniture covered in cotton fabrics.


***As a side note, the pictures here are of our house in Missouri. We moved in to our camper (even tinier than our tiny apartment) in April and we are working to bring our non-plastic aesthetic to our home there.***

***
Thanks for reading the Simplicity Parenting Blog Carnival! We hope you'll take time to read these other great contributors' posts: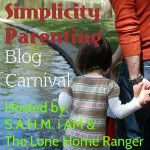 Thanks to all the fabulous writers and readers for being a part of our simplicity parenting community! Stop by The Lone Home Ranger and S.A.H.M. i AM to see how to join us for a future carnival.

Labels: Mindful Home, Mindful Products, Simplicity Parenting Carnival